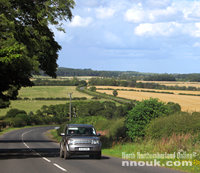 Find out how to get to north Northumberland and travel around once you're here. Full details on our travel page, including tips on how to get the cheapest deal on the bus or train.
Some of the films and TV programmes that have been made in north Northumberland over the years.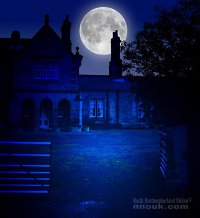 A poltergeist in Embleton in 1957 and big cat sightings. Read more.
Games to play: Dots, Concentration, Crab Race and Guess the Country.
Welcome to the area of England that stretches from Alnwick to Berwick upon Tweed. Part of Northumberland — the northernmost county. Steeped in history, this quiet and peaceful region offers great scenery, magnificent castles, beautiful beaches and a warm welcome to visitors. If you would like to visit, check out the ads on our pages to help you with your vacation plans — including hotels and cottages and other holiday accommodation and packages.
WrenWatch 2016: Sun 19 June (VIDEO)
Sponsor our 2016 birdcam videos. A unique opportunity for your business. Contact us
Sunday 19 June 2016: the boisterous birds are ready to leave the nest and there's excitement as each one in turn takes the plunge. Notice how the final young one flattens its feathers before leaving. In seconds it seems to change from a fluffy chick into a sleek bird.
The parents return several times to check the nest. One takes away some feathers. And that's it, they've gone.
All the videos from this our first nestcam of 2016 can be found here.
Spring lambs near Middleton, 2016

The high ground to the north of Bamburgh gives a great view of Bamburgh castle, the village and Farne Islands. While down on the beach or from the road you get a sense of the sheer size of the building.
Google asked the public which UK landmarks should be added to its Street View service and Bamburgh castle was the winner. You can see our Street View sightseeing tour on this page.
Sounds of the countryside
Some of the sounds you can enjoy in spring in north Northumberland. Featuring three exclusive stereo audio recordings.
Each lasts 60-90 seconds. They were recorded on 6 May between the hours of 6am and 8am. The photographs were taken at each location at the same time.
First is the sound of a burn, second a point on a public footpath between there and Juniper Hill (listen out for the owl at the beginning). Finally a small oak wood on the Hill itself. If you would like to do this walk, see footpath number one.
Take a trip to the Farne Islands



The Farne Islands lie about two miles off the north-east coast and are one of the most famous sea bird sanctuaries in the British Isles.

An incredible 182 different species of bird were recorded there in 1999.

Guillemots, eider ducks and puffins (55,674 pairs in 2007) are just three that you may see. There is a large colony of grey seals too.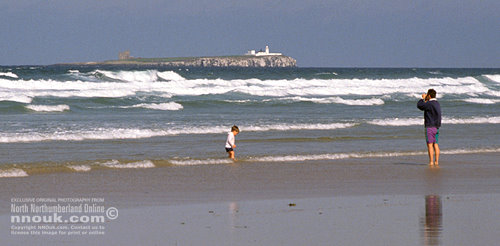 Four of the best beaches in north Northumberland. Whether you're paddling and building sandcastles, surfing or looking for peace and quiet, you'll find something here.
Linking and social networks
| | | |
| --- | --- | --- |
| Press Ctrl+D to bookmark this page | | |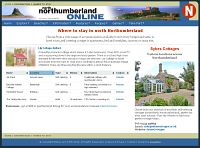 Businesses - get a FREE or paid featured listing for your cottage, hotel, b&b, caravan or campsite. Find out more.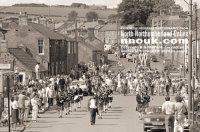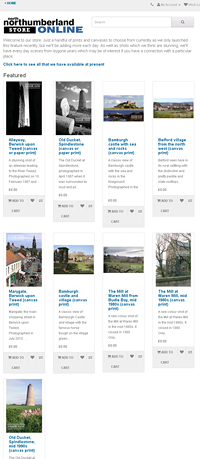 Unique photographs to hang on your wall or put in an album. Including vintage images of Spindlestone, Waren Mill, Bamburgh, Berwick and Newcastle. Many more to come. You can buy a top quality canvas or paper print. Take a look!
There's lots to see in north Northumberland: beaches and harbours, historic buildings and ancient sites, islands, rolling hills and wildlife, market towns and quaint villages. The photo shows Berwick upon Tweed.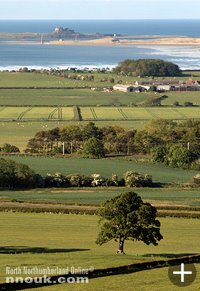 Above: Holy Island seen from high ground near Belford. Below: a lion on the bridge into Alnwick.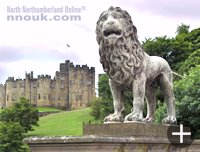 Click here to see our interactive map.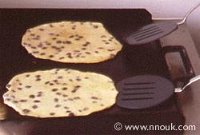 How to make 'Singin' Hinnies' — a traditional Northumbrian delicacy. Plus other recipes.