CAR, MOTORBIKE & CYCLE
North Northumberland is easily accessible by road.
The A1, London to Edinburgh road, passes through the region close to the east coast. This is the Great North Road. Though, since the 1970's, many of the villages that it used to travel through have been bypassed.
If you're on a cycle or scooter you may prefer to give the A1 a miss and travel between Alnwick and Berwick upon Tweed on the picturesque inland country roads or coastal route.
Once you leave the A1 you'll find good roads that are surprisingly quiet even at the height of summer. Visitors often comment on what a pleasure it is to travel around north Northumberland.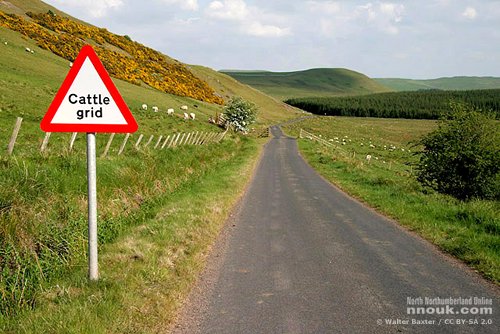 BUSES

(updated Feb 2013)
Bus services in the area are run by Arriva, Travelsure of Seahouses and Perryman's.
The 505 and 515 Newcastle to Berwick Arriva services, which existed for many years, have been renumbered recently and Travelsure no longer operates a service between Belford and Berwick.
The new X15 Arriva service runs between Newcastle upon Tyne and Berwick upon Tweed every two hours (weekdays and Saturdays), passing through Alnwick and Belford. This is a fairly direct bus that travels along the A1 mainly.

The new X18 service between Newcastle upon Tyne and Berwick upon Tweed is also operated by Arriva and runs every two hours (weekdays and Saturdays). It takes a longer but picturesque route along the coast, passing through popular tourist spots such as Bamburgh, Seahouses, Beadnell, Embleton and Craster. This is a good way to see the coastline.
Both the X15 and X18 pass through Belford, providing an hourly service from there to Berwick, Alnwick and and Newcastle until the early evening. The X15 doesn't run north of Alnwick on Sundays and Bank Holidays but there is a two-hourly daytime X18 Newcastle to Berwick service along the coastal route on those days.
Travelsure's number 418 service runs between Belford and Alnwick, and Belford and Craster, along the coast (like the X18) two or three times a day on weekdays and Saturdays. This is another service to use if you want to take in the tourist sights or get to and from the beach.
The 477 service between Berwick and Holy Island is provided by Perryman's Buses with two return journies on Saturdays and Wednesdays only. For those who are travelling from the south, the 477 connects with the Arriva X15 and X18 services at Beal on the A1.
The bus to Holy Island is governed by the safe crossing times, so the timetable varies daily according to the tides.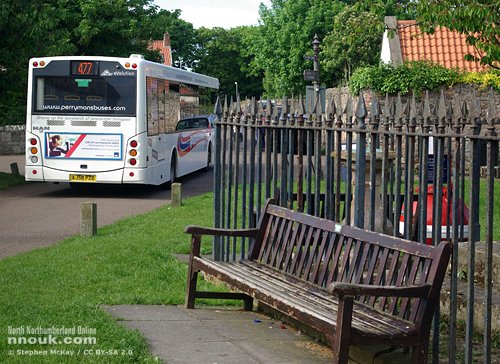 There is no longer a direct bus between Belford and Wooler. Passengers must go via Alnwick or Berwick.
One service is the Travelsure 470 between Alnwick and Wooler. This runs twice a day in both directions but only on schooldays.
The 464 and 267 services between Berwick and Wooler are run by Perryman's Buses, with a daily journey in each direction on both, Mondays to Fridays.
Bus services in the area are quite reliable, but because some cover a large distance they can be delayed due to roadworks, bad weather and school-children. They can be busy in the peak season and very hot on the sunniest summer days. On some routes there are no buses after 19.00 and on Sundays there is generally a much reduced service or none at all.
Whenever you're travelling, we strongly recommend that you always plan out any journey in advance (to make sure you can get back) and check an up-to-date timetable.
Bus journey times (approximate):
Newcastle - Berwick
140 mins
Newcastle - Alnwick
80 mins
Alnwick - Berwick
60 mins
BUS TICKETS (2011 prices)
Ask the bus driver which is the best price ticket for your journey, as there are special deals. For instance, you can buy a one-day ticket that gives unlimited travel.


A Travelsure Day Ticket costs £5.50, while Arriva offers its own Day Saver ticket.
An Explorer North East ticket is valid for one day on buses run by Arriva North East, Go North East, Stagecoach North East, Travelsure, Weardale Motor Services, also on the Shields Ferry, Tyne and Wear Metro and on trains between Newcastle and Sunderland. It costs about £8.00 for an adult.
By way of comparison, a standard single bus ticket between Berwick and Belford (a distance of 17 miles) costs £4.40.
TAXIS
Taxis are available in the main towns and in some villages. In Berwick you can find them at the rail station and on the main street. The fare usually works out at around £1.50 per mile.
TRAINS
The east coast railway line runs between London and Scotland. This service is one of the best in the UK and pleasant to use. Certainly a more enjoyable way to travel between Newcastle and Berwick than on the bus.

The rail journey takes less than half the time of the equivalent bus trip, but a standard ticket costs more than twice the price.
The main railway station in north Northumberland is at Berwick upon Tweed. Also there are stations at Alnmouth (near Alnwick) and at Chathill. However not all trains stop at these three locations, so you should check this before boarding elsewhere.

Currently (March 2013) there are two trains a day from Newcastle to Chathill. These leave Newcastle at 05:55 and 17:38. In the opposite direction trains leave Chathill for Newcastle at 07:08 and 19:10. The journey time is about an hour.
There is one viable service a day from Berwick upon Tweed to Chathill, at 06:00, and two from Chathill to Berwick at 07:10 and 18:36.
For many years there has been a campaign to extend this service to Belford station (which closed in the late 1960's). The reopening of a platform at Belford is now the number one item on the local transport plan for the next five years. There is also a longer-term campaign to reconnect Alnwick with Alnmouth.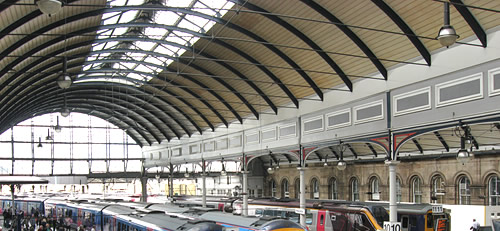 If you're heading to Belford or to one of the villages around the coast, and you're able to fit in with the limited train times, a train to Chathill then a taxi to your final destination could be the best option. It may be quicker than taking a bus and could be cheaper too if part of a longer train journey and especially if more than one person is travelling and will share the taxi.
Chathill is about six miles from Belford, two-and-a-half miles from Beadnell, three-and-a-half miles from Seahouses and four miles from Bamburgh.
Typical train journey times to and from Berwick-upon-Tweed:
London
210-230 mins
Newcastle upon Tyne
50 mins
Edinburgh
50 mins
Cycles can be taken on many trains but sadly there may only be space for one or two and this may need to be booked in advance.
TRAIN TICKETS
It's important that you buy a ticket before boarding any train, unless it is impossible to purchase one at the station. Cheaper tickets can be had by booking in advance. At least a week or, preferably, fourteen days.
East Coast is probably the best website for buying tickets online because, at the time of writing, it doesn't charge a fee for booking or payment by card.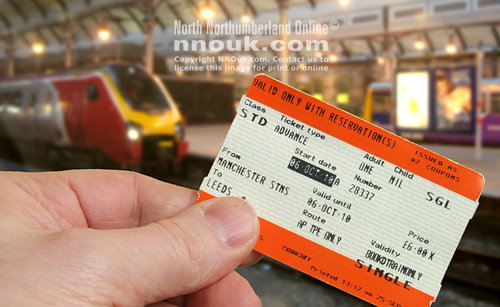 You can reduce the cost of your journey by buying several tickets instead of one.
For example, buy a ticket for Manchester to Darlington and another for Darlington to Berwick. You may even be able to stay on the train if both tickets are for the same service, although you may have to move from one reserved seat to another.
It's barmy that people have to do this to get the best deal, but you can save a substantial amount of money by doing so. The search facilities on the website make it relatively easy to find out the best stations at which to 'split' the journey and apparently it's all within the rules.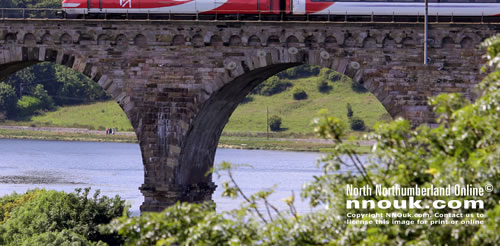 Rover, Ranger and Round Robin tickets are also worth looking into. For an adult fare of £88 the North-east Rover gives you unlimited off-peak travel for either seven consecutive days or any four days in a consecutive eight day period.
The North East Rover covers the area from Berwick upon Tweed in the north to Sheffield and Retford in the south and from Carlisle, Halifax and Huddersfield in the west to Whitby, Scarborough, Hull and Cleethorpes in the east. It also includes the Settle and Carlisle line.
Please check up-to-date timetables, prices and any conditions before travelling.
Linking and social networks
| | | |
| --- | --- | --- |
| Press Ctrl+D to bookmark this page | | |